Phuket Travel Informations
As one of the premier tourist destinations in Thailand, Phuket has innumerable activities to participate in, ensuring that visitors with any interest will find something to keep them entertained on their Phuket holiday. The following are some of the most popular activities on Phuket:
Meet the elephants; learn about them and the mahouts who take care of them and also about Thai elephant conservation and how you can help. See how young elephants are trained, you can touch them and feed them bananas. Trek on an elephant back in Phuket highlands.
Flying Hanuman is an adventure like no other on Phuket. It shows that the island's beauty goes far beyond the sea, sun and sand that it is famous for. The hillsides of Phuket overflow with thick forest that is great for exploration and outdoor activities. Flying Hanuman is an eco-adventure because it is part of the forest that surrounds it.
Rent a Harly-Davidson and you are the King of the Street: "Driving along the East coast of Thailand with on the right the ocean and on the left the Talay Noy meaning in Thai "small sea" which during the raining season it really looks like an ocean as we can not see the other end of it or an alternative route is to go north and cut thru the Talay Noy . Khanom is a small fishing port with two beaches, it is the retreat for the local people who want to run away from the tourists, with fantastic local seafood restaurants."
If you're looking for a new way to explore the natural wonders of Phuket and Phang-Nga provinces, ATV Vehicle will be your choice. Enjoy a fun and safe ride through real untamed rainforests, get in touch with local villages, farms, plantations, dark mangrove forests, discover a hidden waterfall and a unspoilt beach.
All this activities and many more we can organize for you.
Contact us for an advice.
Phuket Weather
Phuket General Information
Weather is always a top question, but is one that is very difficult to comment on. Whatever we say, Mother Nature seems to do the opposite.- This is the Phuket Weather. Phuket, which is a bit smaller than the size of Singapore, is Thailand's largest island. The island is connected to mainland Thailand by two bridges. It is situated off the west coast of Thailand in the Andaman Sea. Phuket formerly derived its wealth from tin and rubber, and enjoys a rich and colorful history. The island was on one of the major trading routes between India and China, and was frequently mentioned in foreign ship logs of Portuguese, French, Dutch and English traders. The region now derives much of its income from tourism. One of the main reasons that tourists visit the island of Phuket is to scuba dive and relax on one of its many breathtaking beaches. With this, it is important to choose the right time of year to visit.
When is the best time of year to visit Phuket?
Weather is always a top question, but is one that is very difficult to comment on. Whatever we say, Mother Nature seems to do the opposite :).
You will hear many opinions about the best time of year to visit Phuket – and, in fact, it is probably quite a personal question.
Phuket Weather
Since weather is the biggest issue for many people you might want to check the actual weather forecast.  Some people really like low season (summer and the rainy season) as the island is quieter and traffic is easier – resort and hotel rates drop by 1/3 to 1/2.
In summer time the seas will be rougher and some beaches will have a strong rip current. It is not always safe to swim as the sea reacts to the weather. Swimming for children in particular is probably not safe unless you seek protected waters on the bay side of the island.
October to April (cold weather season in the northern hemisphere) is high season for people want to escape their harsh winters and flock to nicer climates.   Some people suggest November to February as the high high season – when the island is at its very busiest.
If you enjoy the nightlife and crowds, it's a good time to come. If you are a people watcher, it is also a fun time to just sip a beer and watch people walk by.  Winter is also the time of year when the sea is much calmer and clearer and so perhaps better for scuba diving, snorkeling and swimming in the sea.
In truth, there is no bad time to visit Phuket – do your research and you will not likely be disappointed.
Our Phuket Weather Webcam on top of our Boutique Divecenter will start to operate soon.
The actual sea surface temperature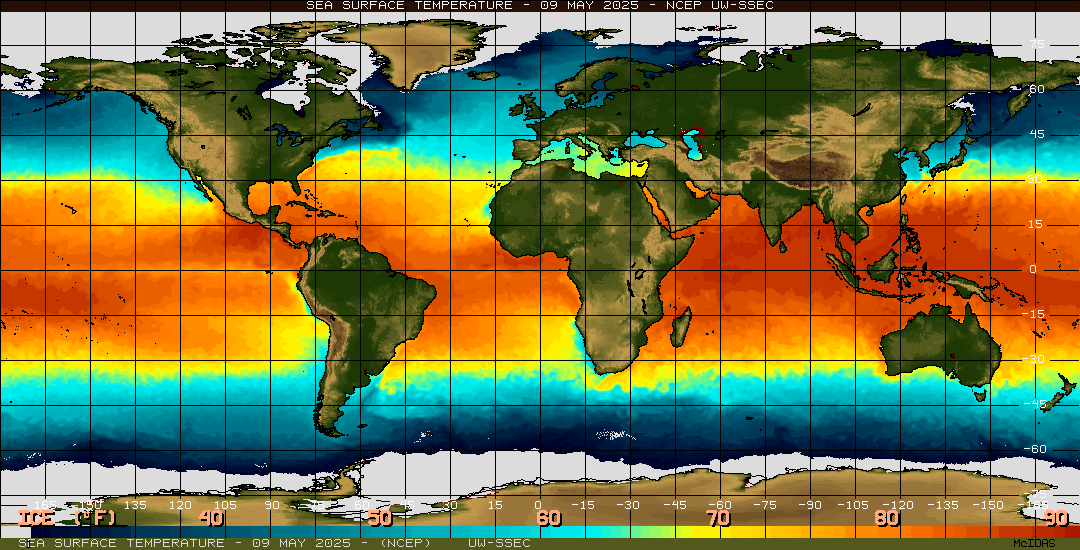 Here is the actual Phuket Weather forecast